大規模アジャイル
Movin' on up: scaling agile in large organizations
Scrum and kanban are two popular agile frameworks used at the team level. Over the past decade, as their popularity grew, the industry began to scale agile to suit larger organizations. Two popular methods emerged to facilitate this: the scrum of scrums, and the Scaled Agile Framework (SAFe). Both are great starting points for scaling agile within an organization.
出発点がどこであれ、アジャイルの拡張のための活動そのものがアジャイルである必要があるということを肝に銘じましょう。正しい道の入口となるフレームワークを選択し、ビジネスニーズの進化や新しい情報の入手に伴って調整します (ただし、アジャイルとは言い難いほど過剰な調整は避けましょう)。
Scrum of scrums
Scrum is the most popular agile framework for individual teams. When several scrum teams work together on a large project, scrum of scrums is the natural next step for scaling agile. The main component of scrum of scrums is a multi-team stand-up. This is not a status meeting. Nor is it a meeting for scrum masters to talk about agile process. It's a short meeting to keep people from around the organization abreast of important issues across the portfolio.
まず各チームからスクラム・オブ・スクラムに参加する代表メンバーを選択します (技術的な知識のあるメンバーが最適です)。スクラム・オブ・スクラムズは民主主義のミーティングです。スクラムマスターは他のチームのスタンドアップと同様にスタンドアップの運営を支援します。これは毎日の短いミーティングで、時間は 15 分以内です。技術的な利害関係者が早期に情報を入手し、フォーラムに参加するので、知識共有の門戸が開かれ、インテグレーションに関する重要課題が明らかになります。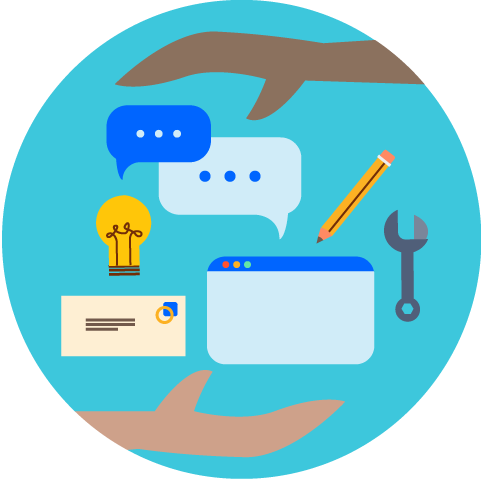 Pro tip:
Some teams may choose to have the scrum of scrums only 2 or 3 times per week but run the meeting a bit longer than 15 minutes. Keep in mind, though, the scrum of scrums is not a boring status meeting where team members tune out. Keep these stand-ups focused. Surface issues that affect the group, decide what actions (if any) need to be taken and by whom, then close the meeting. 
通常、スクラム・オブ・スクラムは、テーマのような大きな作業項目を中心とします。ミーティングの他の参加者に関連しないかぎり、チームレベルのエピックやリリースについては話し合いません。
Some organizations also find value in extending other agile ceremones like sprint planning and sprint retrospectives to the scrum of scrums. Representatives meet just prior to their respective team's sprint planning and share what's likely to be pulled into their upcoming sprints. This is a great way to avoid blocking dependencies between teams or address integration pain-points before they become criplingly painful. For retrospectives, the scrum of scrum meets after their team's individual retrospectives and discuss action items that may require cross-team coordination to resolve.
While scaled-up planning and reflection may not need to be done every sprint, these are important parts of agile culture. Start with a cadence of once per month and adjust the frequency as needed. 
拡張アジャイルフレームワーク (SAFe)
Another way to scale agile in large organizations is SAFe (see diagram). Pioneered by Dean Leffingwell, SAFe takes a more structured approach to scale agile than scrum of scrums. SAFe describes three levels in the organization: portfolio, program, and team. This structure typically appeals to larger organizations, because SAFe employs a tiered approach for the delivery of work.
SAFe では、テーマと呼ばれる関連作業群をビジネスエピックとアーキテクチャエピックにマッピングします。ビジネスエピックは、新製品の発表などの顧客向けイニシアチブです。アーキテクチャエピックは、Windows から Linux ベースのサーバーへの移行などの企業の技術イニシアチブです。これらのエピックがポートフォリオバックログを構成します。
製品管理および技術リーダーが設定した優先順位に従ってポートフォリオバックログの実行を開始すると、各ビジネスまたはアーキテクチャエピックがそれぞれのアジャイルリリーストレインを持ったアジャイルプログラムとなります。組織内の各プログラムに複数のアジャイルチームが協力して取り組みます。各プログラムに、プログラムバックログを構成する複数のフィーチャーとアーキテクチャ作業項目が含まれます。
Finally, each team has its own backlog derived from the program backlog. Individual teams work together to deliver working software each iteration while coordinating with other teams within the program.
「まず何をすればよいのか?」
このような質問は大歓迎です。組織全体にアジャイルを拡張するときには、「適度」を心掛けてください。過剰なプロセスは組織のアジリティを損ない、逆に不足していると経営上層部の可視性を確保できません。ポートフォリオレベルでのアジャイル開発を成功させるには、チームレベルでのアジャイル開発を成功させる必要があります。同じ透明性、変化への即応力、統合された有効なソフトウェアへの取り組みを、ポートフォリオプログラムにも適用します。
柔軟なフレームワークと共有ツールセットがあると、企業全体でのコラボレーションが容易になります。
Whether your organization starts with scrum of scrums, SAFe, another established methodology, or a homegrown process, remember that the process itself should be agile. Keep trying new ideas and making incremental improvements. Also keep in mind that development and agile project management tools become an important part in scaling agile. 
Make sure the organization's toolset meets both the needs of the agile team as well as the senior leaders of the portfolio. Finally, use retrospectives at all levels of the organization to get insights into how to further optimize the company's process to deliver software faster, with higher quality and greater confidence. 
チュートリアル
Learn how to use epics in Jira Software
Use these step by step instructions to learn how to use and create epics in Jira Software
このチュートリアルを読む
記事
アジャイルポートフォリオの管理
How to make agile practices work across a large portfolio of many teams and lots of developers.
この記事を読む